Synopsis
Edit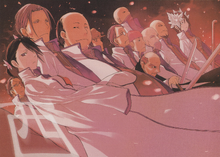 Kelly Yatsufusa turns her attention to the Western District, disparaging the district's Volunteer Police Force as being useless without their captain Sōji Kuzuhara. However, she points out that the West has the Chinese Mafia executives on its side, including the fairly well-known Yili Ei. Kelly opines that the only executive who is friendly enough to approach is Taifei Liu, the executive in charge of intelligence. On the opposite side of the spectrum is Lihuang Ei, who is prickly and cold and, unlike his sister Yili, not going to bother attempting to soften his words. Lihaung's other young sister and executive, Lilei, is in Kelly's view simultaneously "creepy" and "adorable."
Lihuang, Yili, Lilei, and Taifei have all been listening to her broadcast in the Western District, and comment on Kelly's broadcast to each other. Lihuang expresses irritation with the fact that a radio station knows their names and asks while Yili does not eliminate the DJ. Yili does not view the DJ as a threat, and wonders why Lihuang is blaming her for his own incompetence. Taifei suggests that they just blame him for the information leak so they can stop arguing, but Lihuang turns to Lilei and points out that she would normally eliminate "fools" like the DJ.
Lilei replies that the DJ called her adorable, which makes the broadcast okay. Lihuang, in exasperation, says that the others "match" the madmen of the Eastern District, which Yili says is "almost" an honor.